It has been a bloody long time since i posted on here, and i think you should all direct your anger/ joy/ frustration regarding this issue at the tutors on the fine art course at Nottingham Trent University who enjoy giving your's truly deadlines haha. However, i can now happily say that i have exhibited my final piece of work for the previous project and am embarking on a new one for the next couple of weeks, which means more time for a life! :) hahaha. Its a good job that i have more time on my hands now.. because it just so happens that i have lots of new posts in store for the coming weeks :D. This particular one was late in it's production because of said deadlines haha but i hope you can enjoy it just as much! Nothing special really, i was feeling pretty dark and mysterious when i assembled this outfit and to my pleasant surprise ended up looking like a "little alice glass" JOB DONE haha! that was a direct quote from my lookbook btw... one that will be added to my bank of positive affirmations for whenever i'm feeling slightly shit about myself. The whole idead behind this was layers and textures. The cropped vest that i have on has no shape whatsoever.. and because of my short body looks pretty strange if worn on it's own (plus it's still bloody cold outside).. so i naturally chose the sheer panelled long sleeve top to go underneath. I looked pretty grungey with my doc marten's on. I've missed wearing them soo much! why haven't you been wearing them through the harsh months of winter? i hear you ask, well my friends, as the pavements got icier, i soon discovered that second hand dr martens don't have as much grip as new ones hahaha. I learnt this the hard way and nearly went flying on several occasions. I'm loving the grunge/ black/ gothic look at the moment. So easy to wear! lots of comfy clothes layered up in a mismatch fashion while still looking cool! it has soo many benefits :)
Have i used this image on here before??? i don't actually know.. but i don't care cause i feel like using it again. I love it :) grungey, beautiful people chilling out in english fields. SORTED. I don't know where my nirvana tshirt has gone though :( it think i might invest in a new one for my birthday.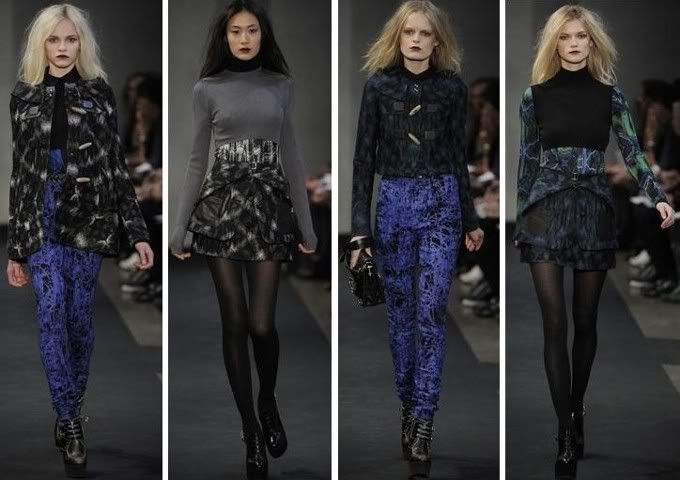 Above: Proenza Schouler Fall/Winter 2010
Alice Glass being fucking brilliant.
What I Wore:
Above I'm Wearing: Black Sheer Panelled top from H&M in Manchester, Black DIY leather shorts (They used to be pants haha) from Vintage Warehouse in Nottingham, Cropped floral vest from Vintage Section of Topshop in Manchester, Black Gold Buckled Belt from a Charity Shop in Warrington, Shoulder tapestry bag from Raider's Vintage in Liverpool, Turquoise Stone Ring from H&M in Warrington and various bits of jewellery from all over the place :)
Lots of Love
Heather
xx